Internships in the School of English
Our internship courses
The School of English offers two credit-bearing courses which provide students with internship opportunities, and fulfil the capstone requirement for their degree:
Our industry partners
We partner with a large and growing number of host organisations who provide our students with a diverse range of experiences:
⇒ Note: Students may also refer to the "Career Activities & Internships" webpage of the Faculty of Arts for internship opportunities.
Numerous other organisations and companies have been approached directly by students and have also generously hosted them for their capstone internship experience, including: Asia Society Hong Kong Center, At-Language Education Centre, CANA Elite Education Centre, Concrete Wall Creation, Irish Chamber of Commerce, LinkedMarts, Livin Farms, Platon Enterprises, Pokeguide Limited, Ruder Finn Asia, Sing and You Music Centre.
Organisations interested in being a partner and accepting interns are invited to contact the School of English, at english@hku.hk.
Our predecessor: The Language & Communication Internship Scheme (LCIS)
As part of the Language & Communication programme's 2009 revamp, the Language and Communication Internship Scheme (LCIS) was launched in 2010. LCIS provided opportunities for L&C students to broaden their undergraduate education through experiential learning via non-credit-bearing internships. LCIS experiences spanned a diverse array of fields, including English education, curriculum and materials development, editorial and publishing, reading and literacy, literary events, research and database management, as well as event organisation, PR and marketing, and the (new) media. Host organisations included the Absolutely Fabulous Theatre Connection, Flatcap Asia, the Hong Kong International Literary Festival, the Hong Kong International Young Readers' Festival, Hong Kong Reads, Hong Kong University Press, iLearner, Kerry Group Kuok Foundation's Little Trekkers Learners Club, the Man Asian Literary Prize, and Surround App.
We are very pleased that several of these host organisations have continued their partnership with us in our current credit-bearing capstone internships. Thank you for your support!
For highlights of LCIS, please see here.
Photo highlights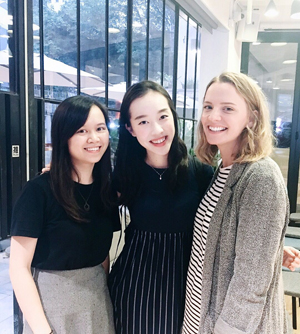 Intern Angie Tsang with Hong Kong International Literary Festival Manager Phillipa Milne and Assistant Manager Jacqueline Leung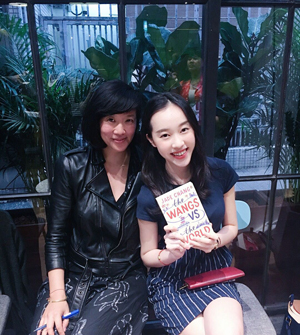 Intern Angie Tsang with author Jade Chang at the Hong Kong International Literary Festival 2017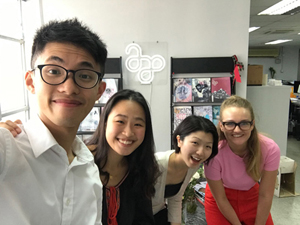 Interns Gwyneth Wong and Edmund Lai with colleagues at ArtAsiaPacific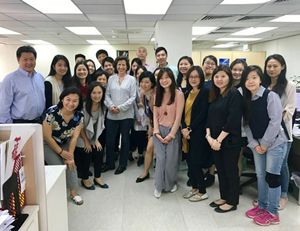 Intern Lyddia Ho with colleagues at UNHCR, Hong Kong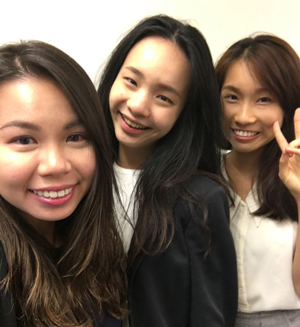 Intern Cathy Tsui (right) with colleagues at Spencer Stuart and Associates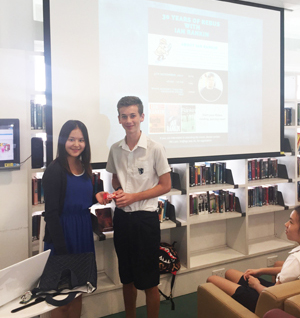 Intern Gladys Ma with student at King George V School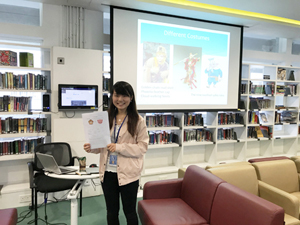 Intern Cindy Leung at King George V School
Student Sharing
Please click here for the video clip from Ines Liu working at Janssen, a division of Johnson & Johnson HK Ltd. for LCOM3005 Internship in Language & Communication