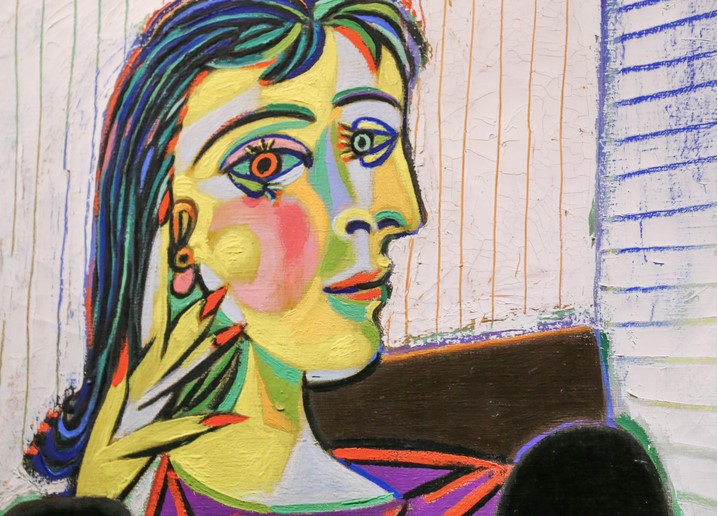 Pablo Picasso, Portrait of Dora Maar (1937)
Topics
---
Modernism/modernisms, world modernisms, modernity, modernization; translation and transnational networks of cultural influence; imperialism, colonialism, globalization; national and "world" literature; modernism in literature and film; aesthetics and formal innovation; modern subjectivities and identities; critiques of modernism.
Objectives
---
This course will pursue the idea of "world modernisms" by foregrounding plural but interconnected manifestations of modernist movements and practices that emerged from transnational processes of modernization and corresponding networks of cultural interaction. While inclusive of examples of European modernism, the course will also incorporate works and discourses from sites of modernist cultural production that have traditionally received less attention. Students will analyze examples of modernist cultural production and engage with critical and theoretical readings on modernism in a global context. How do modernist works respond to modernity? How do they relate to one another -- by influence or difference; by shared or contrasted preoccupations and procedures -- in the network of "world modernisms"? Some attention will also be given to how the category of modernism is constructed and the various interests and aims represented in the redefinition of its boundaries.
Organisation
---
Students are required to attend a two-hour lecture/seminar on Wednesday evenings from 18:30 to 20:30. The two-hour slot will be in the form of a combination of lecture, structured discussions, and oral presentations.
Assessment
---
Assessment in this course will be determined as follows:
Classwork (including attendance, class participation, and Moodle responses/activities) - 20%
Oral Presentation – 20%
2 Short Essays - 20%
Final Paper (1800-2000 words) - 40%
Texts
---
(in chronological order)
Anton Chekhov, Uncle Vanya (1898) – Project Gutenberg
James Joyce, "A Painful Case" (1914) – provided
Ryunosuke Akutagawa, "Rashomon" (1915) and "In a Grove" (1922) – provided
Franz Kafka, The Trial (1925) – Project Gutenberg
Virginia Woolf, Mrs. Dalloway (1925) – purchase
Zora Neale Hurston, Their Eyes Were Watching God (1937) – purchase
Akiro Kurasawa, Rashomon – provided
Jean Rhys, Wide Sargasso Sea (1966) – purchase
Louis Malle, Vanya on 42nd Street (1994) – provided
*** Students will study and present on Chinese Modernist stories by Ba Jin, Duanmu Hongliang, Lao She, Lu Xun, Mao Dun, Mu Shiyang, Shi Zhecun, Xiao Hong ***
-----
Critical writings on Modernism and World Modernism will be provided.