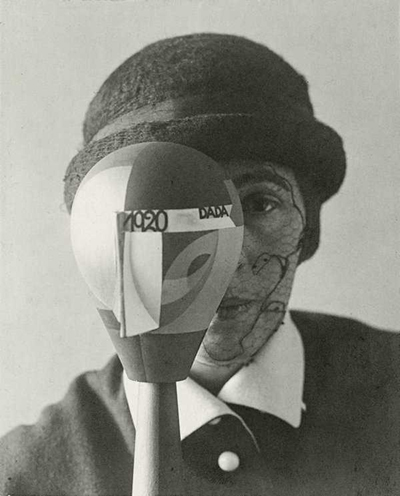 Sophie Taeuber-Arp
Nic Aluf Studio, Photographer
Self-Portrait with Dada Head, 1920
Topics
---
Modernism/modernisms, world modernisms, modernity, modernization; globalization; art and modern life; translation and transnational networks of cultural influence; imperialism, colonialism, national and "world" literature; various movements within modernism (Futurism, Dada, Surrealism, New Sensationism, etc.); aesthetics and formal innovation; modern subjectivities and identities; critiques of modernism.
Objectives
---
This course will pursue the idea of "world modernisms" by foregrounding plural but interconnected manifestations of modernist movements and practices that emerged from transnational processes of modernization and corresponding networks of cultural interaction. While inclusive of examples of European modernism, the course will also incorporate works and discourses from sites of modernist cultural production that have traditionally received less attention. Students will analyze examples of modernist cultural production and engage with critical and theoretical readings on modernism in a global context. How do modernist works respond to modernity? How do they relate to one another—by influence or difference; by shared or contrasted preoccupations and procedures—in the network of "world modernisms"? Some attention will also be given to how the category of modernism is constructed and various interests and aims represented in the redefinition of its boundaries.
Organisation
---
Students are required to attend a two-hour lecture/seminar on Wednesday evenings from 18:30 to 20:30. The two-hour slot will be in the form of a combination of lecture, structured discussions, and oral presentations.
Assessment
---
Assessment in this course will be determined as follows:
Classwork (including attendance, class participation, and Moodle responses/activities) - 20%
Oral Presentation – 20%
1 Short Essay (1000-1200 words) - 20%
Final Paper (1800-2000 words) - 40%
Texts
---
The majority of readings for the course will be made available electronically on Moodle. Texts studied will include works by the likes of F. T. Marinetti, Tristan Tzara, Leonora Carrington, Virginia Woolf, Zora Neale Hurston, Clarice Lispector, Mu Shiying, and a film by Kinugasa Teinosuke.