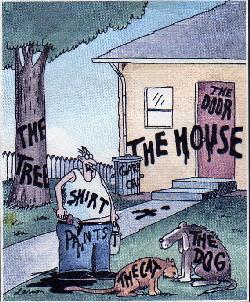 Course Description
---
This course introduces students to the fields of semiotics and semiology, i.e. the study of signs, with particular reference to theories of the sign and what they have to tell us about 'culture' and 'society'. Students will be introduced to some of the major schools in semiotics and semiology, including structuralism, behaviourism, idealism, realism, social constructivism, some of the contemporary ideological currents, including humanism, posthumanism, biosemiotics and Southern theory, and to some of the key modern thinkers in the field: John Locke, Ferdinand de Saussure, Charles S. Peirce, Emile Benveniste, Roman Jakobson, Edward Sapir, Leonard Bloomfield, Roland Barthes, Thomas Sebeok, Jakob von Uexkuell, Roy Harris and Jacques Derrida. We will inquire into how signs function, how they mediate between us and others, between us and 'reality', and how abstract terms like 'discourse', 'ideology', 'community' are theorized in semiotics and linguistics. We will consider signs in its various conceptions and analyse them with respect to our personal (linguistic) experience. We shall also think about signs in connection with humans vs. non-human communication and the contemporary critique of Western epistemologies.
Course Objectives
---
In this course students will learn about different conceptualizations of the sign and what purposes these conceptualizations fulfill. They will develop an understanding of how a particular view of the sign can determine our view on human relations and human activities, including human communication. They will also come to appreciate the importance of the presuppositions on which a theory relies (the 'metatheory'), including what conceptions of 'communication', 'language' and 'culture' are being assumed, and how these conceptions are applied to the human and non-human context. Finally, it will introduce students to the issue of theory (and theoretical explanation), its relationship to empirical aspects, and what is expected from a theory within the humanities and the social sciences.
Course Learning Outcomes
---
At the end of the course, students will be able to
articulate an understanding of how semiotic/semiological theories relate to each other thematically and historically;
produce a critical account of how the relationship of signs and cultural phenomena is explained in a particular theory or across theories;
demonstrate an understanding of how different conceptions of the sign presuppose certain worldviews and ideologies;
conduct independent research related to cultural semiotics.
Assessment
---
1. Quizzes (15% + 15%): [CLO 1, 2, 3]
2. Individual research paper (70%): [CLO 2, 4]
Length: 2500 words
Please send a soft copy to the instructor (apable@hku.hk) and submit one copy to Turnitin via the moodle system.