Conference "Exodus and Exile" -- Chicago / Hong Kong 2021
Building upon "Exodus and Exile: Migrants, Refugees and Asylum Seekers 1750-1850" (February 2019), Clark Library in Los Angeles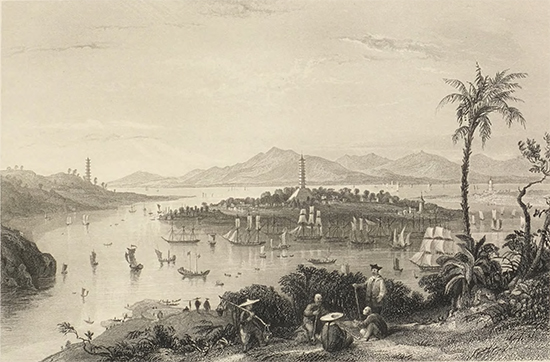 Thomas Allom, "Whampoa, from Dane's Island,"
China, In a Series of Views, Displaying the Scenery, Architecture,
and Social Habits of that Ancient Empire (1843)
Hathi Trust Digital Library
During the period 1750–1850, the transnational movement of people fed an emergent literature of internal alienation, fostered new demographic preoccupations in contemporary historiography, underwrote new theories of political justice, and spurred the reformulation of religious identities. The figure of the migrant has come to hold a complex and conflicted place within this period and within the regimes of western modernity more broadly, as both constitutive of societies, and a threat to national integrity. Yet this figure remains relatively uninterrogated. In this workshop, and against the backdrop of our own present day migration crisis, we seek to understand the eighteenth- and nineteenth-century history of the figure of the migrant in all its castings: exile, refugee, émigré, slave, coolie, emigrant. Scholarship on migrancy tends to concentrate on particular geographical regions, but the history of migration is such that this regional focus often occludes the experience of migrants and the factors shaping their movements. As a group of scholars from different humanities disciplines, we will build a fuller picture of the ways in which migrants have shaped, and been shaped by, the contexts which they inhabited. The focus of this workshop will be on the voluntary and involuntary movement of labor in the Pacific and Atlantic worlds. How might the collective examination of migration in this period across the Atlantic and Pacific worlds help us to understand precariousness and vulnerability as a lived condition, one yielding both deeper historical understanding and new insight into the mass population movements of our present moment?
Participants
Hadji Bakara, University of Michigan
Titas Chakraborty, Duke-Kunshan University
Emma Chubb, Smith College
Derek Duncan, University of St. Andrews
Stefano Evangelista, University of Oxford (Trinity)
Edgar Garcia, University of Chicago
Najnin Islam, Colorado College
Kendall Johnson, University of Hong Kong
Demetra Kasimis, University of Chicago
David Kazanjian, University of Pennsylvania
Julia Kuehn, University of Hong Kong
Josephine McDonagh, University of Chicago
Stuart McManus, Chinese University of Hong Kong
Bellamy Mitchell, University of Chicago
Kaneesha Parsard, University of Chicago
Jonathan Sachs, Concordia University
Charlotte Sussman, Duke University
Jessica Valdez, University of Hong Kong
John D. Wong, University of Hong Kong
Dates / Times

Chicago: December 9-10, 2021 (Thursday-Friday)
Hong Kong: December 9-11, 2021 (Thursday-Saturday)
Location and Venues
Sponsors
Organized by Josephine McDonagh (University of Chicago), Jonathan Sachs (Concordia University), Julia Kuehn (HKU), and Kendall Johnson (HKU).
Funded by the Global Faculty Awards (Provost's Office, University of Chicago), The Franke Institute for the Humanities (UChicago), The Nicholson Center for British Studies (UChicago), the Faculty of Arts (HKU), and the School of English (HKU).
Pre-Conference Event: A Conversation with the award-winning poet Bhanu Kapil, author of How to Wash a Heart (2020)
Part I: Hong Kong: Moderated by Collier Nogues
Hong Kong International Literary Festival (HKILF)
November 9, 2021, 8:30 pm - 9:30 pm; Chicago, November 9, 6:30 am - 7:30 am
More information and registration at HKILF

Part II: Chicago: Moderated by Jennifer Scappetone (University of Chicago)
Conversation and Q & A on Migration
November 9, 2021: 10 am - 10:45 am Central (Chicago) time; Hong Kong, November 9, 12 midnight - 12:45 am
Registration here.