by Wilson Chik
The space in room 7.45 is reconfigured: although the rectangular tables placed in a U-shape and used for seminars are present, now – right down the center – a passageway opens. For three days, this spatial configuration becomes an activated place, charged with different histories as participants and presenters from as far as Hawaii, Australia, New Zealand, Sri Lanka, and as close as Bangladesh, Japan, Taiwan, and Hong Kong, converge to tell tales and speak to new possibilities.
Distance is important to a symposium whose dialoguing centers around The Space Between, held in the School of English this past December.  We are so often enchanted by distance, which we hear in idiomatic English expressions: around the corner, a stone's throw, at a great distance, worlds apart, a hop, skip and jump, no great distance. Inherent to distance, time looms in relation to space. Being physically far demands more time to 'get there' or to 'get here', both in arriving and departing. Being far away, you are not near enough; a 'divide' opens: a kind of love-sickness ensues where physical intimacy is 'lost' between people.  So how do we as human beings 'feel closer' to each other? What can bring people 'closer' if not together? And, if we are distant and apart, how do we stay 'close' by being 'in touch'?
As scholars, artists, or a blend of both, we are all drawn to searching, re-searching and truth-searching which the participants and presenters in The Space Between each investigate; for some, the investigating has been years in the making. Both personally and collectively, The Space Between is not a space without tension, especially in the fields of Creativity, Performance and Impact situated in Contemporary Island Societies. Otto Heim, Page Richards and Gray Kochhar-Lindgren – the symposium's conveners – knew very well that Hong Kong Island, given its colonial and postcolonial histories, would serve and augment both as the backdrop and the platform to foreground the complex ecologies of Island Studies. The place, space and time of Hong Kong straddle myriad elemental divides, not only those of ocean and land but of culture and heritage, literacies and translations, continental time and island time.
Doritos Hannah, an artist, performance designer and theatre architect, looks deeply through her research into island spacing and the ecological relationality that always has the Anthropocene as a 'star' – and everything else less in focus. At most times, this 'star' is not brilliant, but more lackluster, especially in matters closest to the heart – and particularly regarding the migrant crisis, in which an estimated 65 million individuals are at the moment in exile. Her co-curation in PHONEHOME was selected for the Unpostponable: XX Chile Architecture and Urbanism Biennial in 2017. For those who are in exile, the smartphone, along with identity documents, is kept in a water-tight Ziploc bag and always kept within arm's reach, but the migrant holding pens, the windowless shipping containers erected as temporary shelters, can never be home. This news is watched as if from a great distance, remote on the screen, where it is 'news' about somewhere else (not here), about 'other' people (not 'us'). We could easily justify this divide with a switch: a switch from feeling to logic, a switch of channels, a switch from this -ism to that -ism, a switch from 'on' to 'off'.  If only we were somehow brought closer: through a gesture, an understanding or a feeling. Instead, in the installation, a low bench brings the audience down, literally to their knees, in order to catch a glimpse at the string of miniaturized non-descriptive white shipping containers, box after box, each housing a video projection where it pulls the 'eye' and the 'I' closer into that space in-between by 'taking a look'.'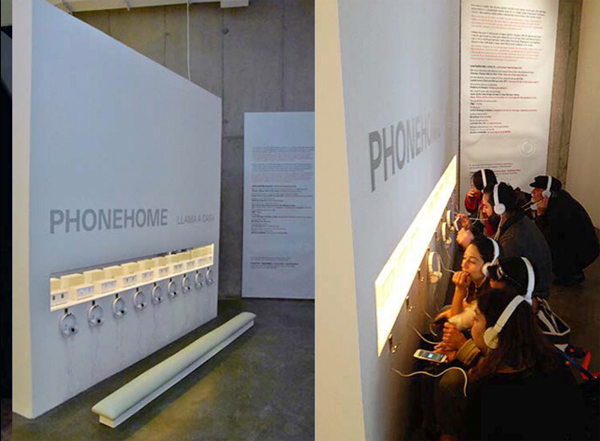 The audience, as on-lookers, are miniaturized too. Diminished in size, distance collapses for empathy, for understanding, for, perhaps, justice. Yet, always nearby, there is irony: in this case, the tightly bounded and capitalized PHONE with HOME where there is no space for those in exile, or at least, they are made to experience the space in-between this way. We, here, use our phones to call home, or to a love one, or to a friend; they, there, await, and are continuously made to wait, with their phone ziplocked silent, hoping for a new home that one day they can phone to or from.
Hannah's presentation is one of sixteen, where each evoked its own geo-political, geo-critical, geo-mythical frameworks, indicative of the larger question at hand. The Space Between inevitably affects all of us, in one way or another. Then we, together in our own disciplines, artistic and scholarly, must take the reigns in investigating distance that is psychological, political, emotional, physical and historical, taking special account of the distance that isolates and insulates, as well as the space where there is none – somehow we have all become islanded by our own imagination and creation. If this were the case, then how can we all become more un-islanded in the islandedness, sharing intimacies that is not only for loved ones or family, but rather for another fellow human being?
*Photo from http://www.davidshearing.com/works/phonehome/
**The Space Between: Creativity, Performance and Impact in Contemporary Island Societies took place on December 6-8, 2018 and the symposium was generously supported by the Faculty of Arts and School of English.
Published on: February 22, 2019 < Back >