¡@

The doctrine of stare decisis, whereby courts are bound by precedent cases, underpins legal reasoning in the common law world. At the same time, the legal judgment is itself a product of institutional and linguistic practices, and raises broader questions about the foundations and boundaries of law. This colloquium re-examines the seemingly familiar notion of a 'legal case' by exploring the histories, practices, conventions and rhetoric of 'case law'. It will also investigate the interaction between cases and other discourses such as fiction, drama and film. Speakers will include legal philosophers, legal historians, literary critics, and linguists who work at the intersection of law and the humanities.

¡@

June 23, 2010 Wednesday

9:30am

Reception and Registration

10am

Opening
Mr. Justice Bokhary PJ, Court of Final Appeal
Johannes Chan SC, Dean, Faculty of Law
Christopher Hutton, Associate Dean, Faculty of Arts

10:30am- 12:45pm

Session 1: What is a ¡¥Case¡¦? Problems of Classification and Definition
Chair: Cora Chan (University of Hong Kong)

Reading Legal Case Reports
Alan Durant (Middlesex University)

On Lapsus Judicii: Notes on Law in the Making
Thanos Zartaloudis (Birkbeck College)

¡§I crave the law¡¨: Salomon v A Salomon & Co Ltd (1897) as a Socio-Cultural Event
Christopher Hutton (University of Hong Kong)

12:45pm-2pm

Lunch

2:15pm-4:30pm

Session 2: The Legal Case and Fiction
Chair: Sarah Cheng (University of Hong Kong)

Stare Decisis and Anthony Trollope¡¦s The Eustace Diamonds
Marco Wan (University of Hong Kong)

¡§Binding¡¨ Precedent: Robert Louis Stevenson¡¦s
The Strange Case of Doctor Jekyll and Mr. Hyde
Scott Veitch (University of Hong Kong)

On Trial in Chinua Achebe's No Longer at Ease
Katherine Isobel Baxter (University of Hong Kong)

June 24, 2010 Thursday

10am-12:15pm

Session 3: The Legal Case on Stage and Screen
Chair: Haochen Sun (University of Hong Kong)

The Dramatic Imagination and the Dream of Law
Paul Raffield (University of Warwick)

Hamlet's Delay as Procedural Justice
Kenji Yoshino (New York University)

The Whole Truth and Nothing but the Truth: the Case of Close-Up
Maria Aristodemou (Birkbeck College)

12:15pm-2pm

Lunch

2:15pm-4:30pm

Session 4: Non-Western Perspectives on the Legal Case
Chair: Douglas Kerr (University of Hong Kong)

The Guiding Cases System: Stare Decisis with Chinese characteristics
Ping Yu, (New York University)

The Impeachment Trial of Warren Hastings
Anthony Carty (University of Hong Kong)

Sir William Jones and the Translation of Law in India
Robert Young (New York University)

Evening

Colloquium Dinner

June 25, 2010 Friday

10am- 11:15am

Session 5: Cases of Obscenity
Chair: Gina Marchetti (University of Hong Kong)

Revisiting ¡¥Obscenity¡¦: Insights from the Sorites Paradox
Janny Leung (University of Hong Kong)

Brokeback¡¦s Bareback: Rum, Sodomy and the Lash in (Queer?) Legal Fictions
William MacNeil (Griffith University)

11:15am-11:30am

Coffee

11:30pm-12:45pm

Roundtable Discussion

12:45pm-2pm

Casual Lunch

¡@

Maria Aristodemou
University of London
Maria Aristodemou is senior lecturer in law at Birkbeck College, University of London. She examines literature as a potential form of law making by drawing on the insight of feminist theory, postcolonial theory, and critical race theory. She is the author of Law & Literature: Journeys from Her to Eternity (Oxford University Press, 2000).

Katherine Baxter
HKU
Katherine Baxter is Research Assistant Professor at the University of Hong Kong. She received her PhD from the University of Glasgow, and has published predominantly in the field of Conrad Studies. In 2004, she was honoured by the Joseph Conrad Society of America with the Bruce Harkness Young Conrad Scholar Award. She also works on 20th century and contemporary literature from and about West Africa, and in particular, on the interplay between literature and policy during the late colonial and early postcolonial period.

Anthony Carty
HKU
Anthony Carty is the Sir Y.K. Pao Chair Professor in Public Law at the University of Hong Kong. Carty studied law at Queen's University Belfast, London, and Cambridge. He has worked at the University of Paris, the Max Planck Institute in Heidelberg and has lectured at Edinburgh University and Glasgow University. He has held visiting positions at Max Planck Institute for European Legal History, the University of Tokyo, and the Autonomous University of Madrid. His Philosophy of International Law (Edinburgh University Press, 2007) has been the subject of close attention in recent review articles in the American Journal of International law, the Journal of the History of International law and the Modern Law Review.

Alan Durant
Middlesex University
Alan Durant is Professor of Communications at Middlesex University. He received his PhD from Trinity College, Cambridge, and has published extensively in areas ranging from English literature and music through to linguistics and communication law. He has lectured in more than 30 countries around the world and been consultant on higher education projects in Europe, North and South America, North Africa and throughout Asia for the British Council and other organizations. He was a member of the British Council's Literature Advisory Committee (LITAC), 2000-2003, and has been a consultant to the British Film Institute on exploiting archive footage as well as producer of two broadcast documentaries for Channel 4 television.

Christopher Hutton
HKU
Christopher Hutton is Chair Professor of English at the University of Hong Kong. He received his doctorate from Oxford University, and his research focuses on political issues in language and linguistics. His is currently working on the question of interpretation in a legal context, and his most recent publication is Language, Meaning and the Law (Edinburgh University Press, 2009).

Janny Leung
HKU
Janny Leung is Assistant Professor of English at the University of Hong Kong. She received her PhD from Cambridge University, and has published articles on second language acquisition, law and language, and law and psychology.

William MacNeil
Griffith University
William MacNeil is Professor of Law at Griffith University, where he is also Deputy Dean for Research and Director of the Socio-Legal Research Centre. He received his JSD from Columbia University, and his areas of interest include law and popular culture, law and literature, law and film, and theories of human rights and justice. He is the author of Lex Populi: The Jurisprudence of Popular Culture (Stanford University Press, 2007) and of a forthcoming monograph entitled Novel Judgments: Legal Theory as Fiction (Routledge-Cavendish, 2010).

Paul Raffield
Warwick University
Paul Raffield is an Associate Professor in the School of Law, University of Warwick. After graduating with a degree in law, Raffield trained as an actor. He continues to work as an actor and director. Raffield studied for his PhD at Brikbeck College, London, and has subsequently published extensively in the fields of law and literature and legal history. He is the author of Images and Cultures of Law in Modern England: Justice and Political Power, 1558-1660 (Cambridge University Press, 2004) and is currently writing his next book, Shakespeare's Imaginary Constitution: Late Elizabethan Politics and the Theatre of Law (Hart, 2011). Raffield is a member of the Italian Cultural Association for the Study of Law and Literature (Associazionne Italiana di Diritto e Letteratura). He is the founding coeditor of the journal Law and Humanities. In 2009 Raffield became a Fellow of the Higher Education Academy.

Scott Veitch
HKU
Scott Veitch is the Paul K.C. Chung Chair Professor of Jurisprudence at the University of Hong Kong. Educated in Scotland, he has worked at universities in the United Kingdom and Australia, and has held visiting academic positions in South Africa, New Zealand, Belgium and France. His first monograph, entitled Moral Conflict and Legal Reasoning (Hart, 1999), was an analysis of legal reasoning and institutions from the conflicting perspectives of the liberal theory of Isaiah Berlin and the liberal critique of Alasdair MacIntyre, and was the winner of the European Award for Legal Theory. Current research projects include comparing legal traditions in their philosophical and socio-economic contexts; a critical evaluation of citizenship and the common good in the European Union; and representations of pain in legal and aesthetic contexts. His most recent monograph is Law and Irresponsibility: On the Legitimation of Human Suffering (Routledge-Cavendish, 2007).

Marco Wan
HKU
Marco Wan is Assistant Professor of Law and Honorary Assistant Professor of English at the University of Hong Kong. He works on literary-legal relations in nineteenth-century England and France, and also has a strong interest in representations of law in Asian cinema. He has published articles on the Oscar Wilde trials, the Madame Bovary trial, and legal films in Hong Kong. He received his PhD and his law degree from Cambridge University, and his BA from Yale University.

Kenji Yoshino
NYU
Kenji Yoshino is the Chief Justice Earl Warren Professor of Constitutional Law at the New York University School of Law. Prior to moving to NYU, he was the inaugural Guido Calabresi Professor of Law and Deputy Dean of Intellectual Life at Yale Law School, where he taught from 1998 to 2008. He received his undergraduate degree from Harvard College, took a Rhodes Scholarship to Oxford University, and earned his law degree at Yale Law School. He is the author of Covering: The Hidden Assault on our Civil Rights (Random House, 2006), which received the Randy Shilts Award for Gay Non-Fiction from the Publishing Triangle (2007), a Stonewall Honor Book Award from the American Library Association (2007), and a Myers Outstanding Book Award from the Gustavus Myers Center for the Study of Bigotry and Human Rights (2006). He is also the author of a forthcoming monograph on Shakespeare and the law (Ecco Press).

Robert J.C. Young
NYU
Robert Young is the Silver Professor of English and Comparative Literature at New York University. He was educated at Oxford University and is the author of many books on colonial discourse and on Post-colonialism. His most recent book is The Idea of English Ethnicity (Blackwell, 2008).

Ping Yu
US-Asia Law Institute
Ping Yu is a senior research fellow at the U.S-Asia Law Institute and a leading specialist on China's criminal procedure. Dr. Yu is also an adjunct professor at Shanghai Jiaotong University School of Law in Shanghai, where he teaches both a course on Chinese criminal law and a comparative course on criminal justice in the United States.

Thanos Zartaloudis
University of London
Thanos Zartaloudis is a lecturer in law at Birkbeck College, University of London. He received his PhD from Birkbeck and works on legal philosophy, the experience of refugees and property studies. He is the author of a recent monograph entitled Giorgio Agamben: Power, Law and the Uses of Criticism (Routledge-Cavendish, 2010).

¡@

¡@

Please email Lydia Bute (lbute@hku.hk)

¡@
¡@
¡@

Elaine Y.L. Ho

Arts, HKU
Marco Wan

Law, HKU
Robert J.C. Young

English and Comparative Literature, NYU


¡@

Click here to download the poster in pdf.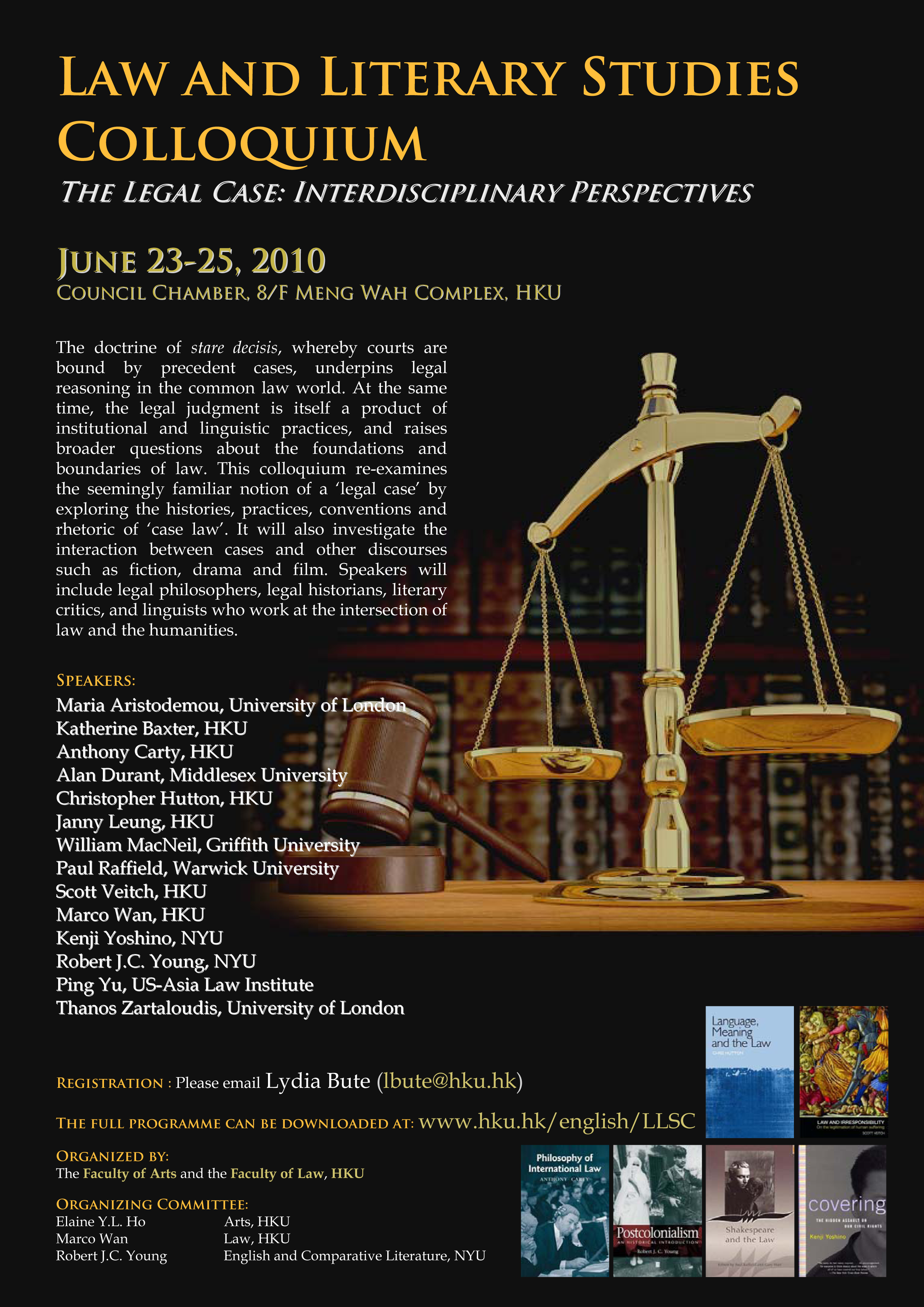 ¡@

Please click here for a larger map.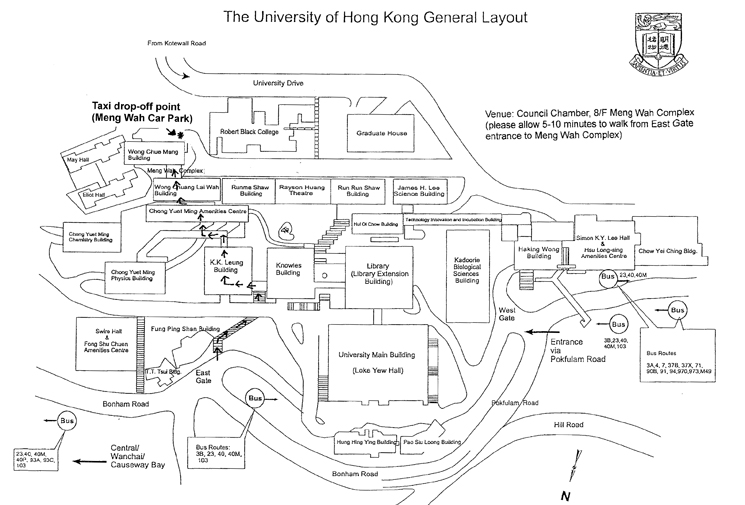 ¡@

¡@
¡@
¡@
Designed by: Crystal Ko, School of English