The Pepperrell Limner, Mary Hirst, and larger
(ca. 1710; The Detroit Institute of Arts)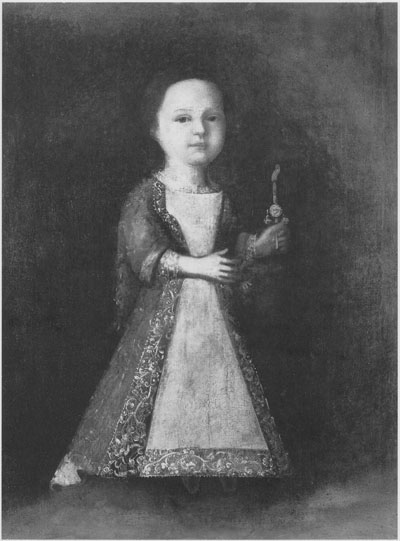 John Robinson, first Pastor of the Pilgrims
From The Works of John Robinson. Edited by Robert Ashton. Boston, 1851. Volume I: 246-7.

And surely there is in all children... a stubbornness, and stoutness of mind arising from natural pride, which must, in the first place, be broken and beaten down; that so the foundation of their education being laid in humility and tractableness, other virtues may, in their time, be built thereon... For the beating, and keeping down of this stubbornness parents must provide carefully... that the children's wills and willfulness be restrained and repressed, and that, in time; lest sooner than they imagine, the tender sprigs grow to that stiffness, that they will rather break than bow. Children should not know, if it could be kept from them, that they have a will in their own, but in their parents' keeping; neither should these words be hear from them, save by way of consent, 'I will' or 'I will not.'

John Winthrop
"A Modell of Christian Charity", delivered aboard the Arabella (1630) | Full Version

WRITTEN ON BOARD THE ARBELLA, ON THE ATLANTIC OCEAN
By the Hon. John Winthrop Esqr. In his passage (with a great company of Religious people, of which Christian tribes he was the Brave Leader and famous Governor;) from the Island of Great Brittaine to New-England in the North America. Anno 1630.

GOD ALMIGHTY in his most holy and wise providence, hath soe disposed of the condition of' mankind, as in all times some must be rich, some poore, some high and eminent in power and dignitie; others mean and in submission. [...]

From hence we may frame these conclusions. 1. First of all, true Christians are of one body in Christ, 1 Cor. 12. 12. 13. 17. Ye are the body of Christ and members of their parte. All the partes of this body being thus vnited are made soe contiguous in a speciall relation as they must needes partake of each other's strength and infirmity; joy and sorrowe, weale and woe. 1 Cor. 12. 26. If one member suffers, all suffer with it, if one be in honor, all rejoyce with it. 2ly. The ligaments of this body which knitt together are loue. 3ly. Noe body can be perfect which wants its proper ligament. 5ly. This sensibleness and sympathy of each other's conditions will necessarily infuse into each parte a native desire and endeavour, to strengthen, defend, preserve and comfort the other. To insist a little on this conclusion being the product of all the former, the truthe hereof will appeare both by precept and patterne. 1 John 3. 10. Yee ought to lay doune your lives for the brethren. Gal. 6. 2. beare ye one another's burthen's and soe fulfill the lawe of Christ. For patterns wee haue that first of our Saviour whoe out of his good will in obedience to his father, becomeing a parte of this body and being knitt with it in the bond of loue, found such a natiue sensibleness of our infirmities and sorrowes as he willingly yielded himselfe to deathe to ease the infirmities of the rest of his body, and soe healed theire sorrowes. From the like sympathy of partes did the Apostles and many thousands of the Saintes lay doune theire lives for Christ. Againe the like wee may see in the members of this body among themselves. 1 Rom. 9. Paule could have been contented to have been separated from Christ, that the Jewes might not be cutt off from the body. It is very observable what hee professeth of his affectionate partaking with every member; >whoe is weake (saith hee) and I am not weake? whoe is offended and I burne not; and againe, 2 Cor. 7. 13. therefore wee are comforted because yee were comforted. Of Epaphroditus he speaketh, Phil. 2. 30. that he regarded not his owne life to do him service. Soe Phebe and others are called the servants of the churche. Now it is apparent that they served not for wages, or by constrainte, but out of loue. The like we shall finde in the histories of the churche, in all ages; the sweete sympathie of affections which was in the members of this body one towards another; theire chearfullness in serueing and suffering together; how liberall they were without repineing, harbourers without grudgeing, and helpfull without reproaching; and all from hence, because they had feruent loue amongst them; which onely makes the practise of mercy constant and easie.

Now the onely way to avoyde this shipwracke, and to provide for our posterity, is to followe the counsell of Micah, to doe justly, to love mercy, to walk humbly with our God. For this end, wee must be knitt together, in this worke, as one man. Wee must entertaine each other in brotherly affection. Wee must be willing to abridge ourselves of our superfluities, for the supply of other's necessities. Wee must uphold a familiar commerce together in all meekeness, gentlenes, patience and liberality. Wee must delight in eache other; make other's conditions our oune; rejoice together, mourne together, labour and suffer together, allwayes haueving before our eyes our commission and community in the worke, as members of the same body. Soe shall wee keepe the unitie of the spirit in the bond of peace. The Lord will be our God, and delight to dwell among us, as his oune people, and will command a blessing upon us in all our wayes. Soe that wee shall see much more of his wisdome, power, goodness and truthe, than formerly wee haue been acquainted with. Wee shall finde that the God of Israell is among us, when ten of us shall be able to resist a thousand of our enemies; when hee shall make us a prayse and glory that men shall say of succeeding plantations, "the Lord make it likely that of New England." or wee must consider that wee shall be as a citty upon a hill. The eies of all people are uppon us. Soe that if wee shall deale falsely with our God in this worke wee haue undertaken, and soe cause him to withdrawe his present help from us, wee shall be made a story and a by-word through the world. Wee shall open the mouthes of enemies to speake evill of the wayes of God, and all professors for God's sake. Wee shall shame the faces of many of God's worthy servants, and cause theire prayers to be turned into curses upon us till wee be consumed out of the good land whither wee are a goeing.

Jonathan Edwards
"Sinners in the Hands of an Angry God" (1741) | Portrait | Full Version

The God that holds you over the pit of hell, much as one holds a spider, or some loathsome insect over the fire, abhors you, and is dreadfully provoked: his wrath towards you burns like fire; he looks upon you as worthy of nothing else, but to be cast into the fire; he is of purer eyes than to bear to have you in his sight; you are ten thousand times more abominable in his eyes, than the most hateful venomous serpent is in ours. You have offended him infinitely more than ever a stubborn rebel did his prince; and yet it is nothing but his hand that holds you from falling into the fire every moment. It is to be ascribed to nothing else, that you did not go to hell the last night; that you was suffered to awake again in this world, after you closed your eyes to sleep. And there is no other reason to be given, why you have not dropped into hell since you arose in the morning, but that God's hand has held you up. There is no other reason to be given why you have not gone to hell, since you have sat here in the house of God, provoking his pure eyes by your sinful wicked manner of attending his solemn worship. Yea, there is nothing else that is to be given as a reason why you do not this very moment drop down into hell.


Anne Bradstreet, The Tenth Muse (London, 1650) and Several Poems (Boston, 1678)
The Poems of Mrs. Anne Bradstreet (1612-1672), with an introduction by Charles Eliot Norton

In memory of
my dear grand-child Elizabeth Bradstreet,
who deceased August, 1665.
being a year and half old

1
Farewel dear babe, my hearts too much content,
Farewel sweet babe, the pleasure of mine eye,
Farewel fair flower that for a space was lent,
Then ta'en away unto Eternity.
Blest babe why should I once bewail thy fate,
Or sigh the dayes so soon were terminate;
Sith thou art setled in an Everlasting state.



2
By nature Trees do rot when they are grown.
And Plumbs and Apples throughly ripe do fall,
And Corn and grass are in their season mown,
And time brings down what is both strong and tall,
But plants new set to be eradicate,
And buds new blown, to have so short a date,
Is by his hand alone that guides nature and fate.


---
On My dear Grand-child Simon Bradstreet
Who dyed on 16. Novemb. 1669. being but a moneth and one day old
No sooner come, but gone, and fal'n asleep,
Acquaintance short, yet parting caus'd us weep,
Three flours, two scarcely blown, the last i'th' bud,
Cropt by th'Almighties hand; yet is he good,
With dreadful awe before him let's be mute,
Such was his will, but why, let's not dispute,
With humble hearts and mouths put in the dust,
Let's say he's merciful as well as just.
He will return, and make up all our losses,
And smile again, after our bitter crosses.
Go pretty babe, go rest with Sisters twain
Among the blest in endless joyes remain.


---
The Author to her Book
Thou ill-form'd offspring of my feeble brain,
Who after birth did'st by my side remain,
Till snatcht from thence by friends, less wise then true
Who thee abroad, expos'd to public view,
Made thee in raggs, halting to th' press to trudg,
Where errors were not lessened (all may judg)
At thy return my blushing was not small,
My rambling brat (in print) should mother call,
I cast thee by as one unfit for light,
Thy Visage was so irksome in my sight;
Yet being mine own, at length affection would
Thy blemishes amend, if so I could:
I wash'd thy face, but more defects I saw,
And rubbing off a spot, still made a flaw.
I stretcht thy joynts to make thee even feet,
Yet still thou run'st more hobling then is meet;
In better dress to trim thee was my mind,
But nought save home-spun Cloth, i'th' house I find
In this array, 'mongst Vulgars mayst thou roam
In Criticks hands, beware thou dost not come;
And take thy way where yet thou art not known,
If for thy Father askt, say, thou hadst none:
And for thy Mother, she alas is poor,
Which caus'd her thus to send thee out of door.