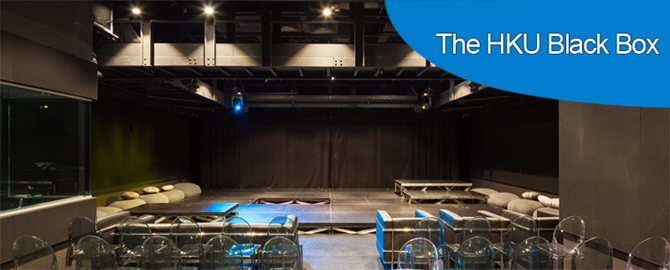 The HKU Black Box is a unique and innovative locus founded in the School of English and Faculty of Arts. This curated and creative space hosts a full schedule of seminars, readings, screenings, performances, and workshops throughout the year.
The HKU Black Box is intimate and flexible, designed to warmly feature writers, dramatists, and artists and the many possibilities of their work.
The venue includes:
a technical control booth allowing professional lights and sound;
a floor with rising hydraulic squares for flexible staging;
a film screen for hosting multimedia dramatic and documentary events;
seating for approximately 50 participating audience members; and
a university cabaret and festive atmosphere welcoming all levels of participation across a wide spectrum of the dramatic arts
Programming at the HKU Black Box
The venue hosts internal HKU events, as well as city-wide events and activities organised with the HKU community. Participants in all are invited to join the Black Box Guild, engaging in workshops, readings and performances, organised at the HKU Black Box.
Booking the HKU Black Box
There are limited periods when the venue is available for booking by university departments and societies. Such bookings will be vetted by the HKU Black Box team and will be approved based on venue availability and suitability of the proposed programming.
Site visits must be arranged in advance with the Theatre Manager, since the HKU Black Box runs continuously, and events cannot be interrupted directly on site.
For more information please email: ahemnani@hku.hk.